Stay tuned on social media for updates!
Our live stream can be found on social media on Sundays at 10:00AM.
event and will include supper!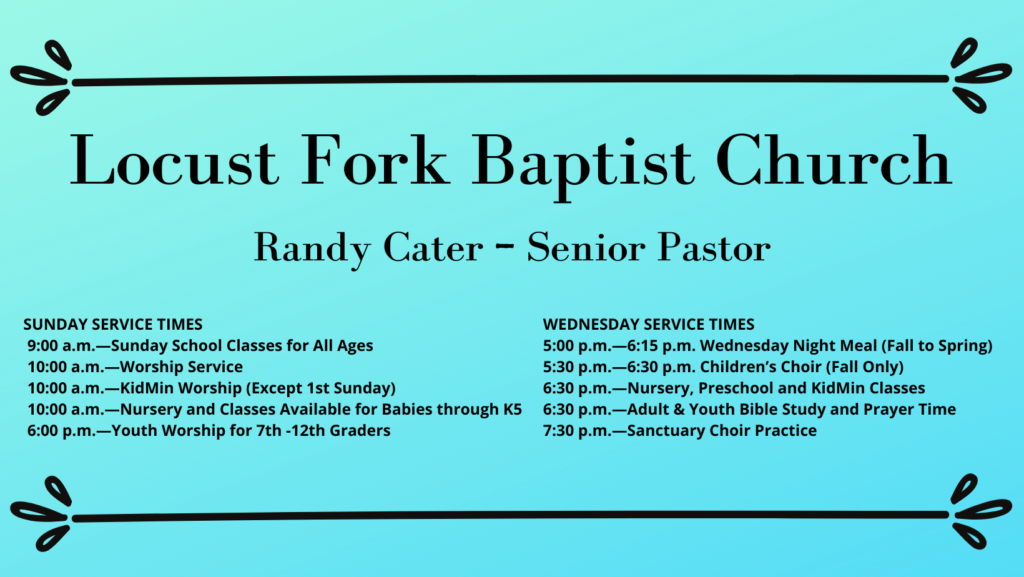 ANNOUNCEMENTS
Monday, October 3 Announcements:
-Our 65th Anniversary & Homecoming will be Sunday, October 16th at 10am.
-Revival will be October 23-26! Guest Preachers will be Blake Kersey, Daniel Atkins, Draper Rogers and Phillip Bremmerman.
-Our Annual Harvest Festival/Trunk-A-Treat will be Sunday, October 30 from 4-6pm!
-Starting Point will be on Sunday, November 6 @9am in the church conference room.
-Man Church Small Groups are in session! Several groups meeting during the week. Tuesday @530am in the Family Life Center Classroom, Wednesday @730pm in the Chapel, Thursday @630pm in the Chapel & @7pm for 7-12th Grade Boys at Gregg Armstrong's home and Sunday Night @530pm in the Family Life Center Classroom.
-If you would like to volunteer at the Family Life Center desk, please call the church at 205-681-2254.
-Each Sunday morning we have Extended Session for Babies through K5 during our morning worship service.
-Each Sunday morning our KidMin meets for worship (with the exception of the 1st Sunday each month)! It starts at 10am in their new KidMin room downstairs on the white floor. All 1st through 6th graders are welcome!
-Our Library is open on Sundays – from 8:30 to 10am and 11:00-11:15am and on Wednesdays from 10am to 2pm and 530-630pm.
-Our Daily Bread devotionals for this quarter are available for pickup in the sanctuary foyer.
-Sunday School is each Sunday at 9am.
-Wednesday Night Services: Our service is at 6:30pm in the Sanctuary. K3-K5 will meet in the preschool area for Preschool Choir and JAM (Jesus and Me). 1st-6th grade will meet in the KidMin Room. 7-12th grade boys will meet on the 2nd floor of the Family Life Center and the 7-12th grade girls will meet in the Family Life Center Classroom. Choir practice is at 7:30pm in the Sanctuary.
WORSHIP TIMES
Locust Fork Baptist is a church
where we love to worship. God calls us to gather as a community to worship.
BIBLE STUDY TIMES
At Locust Fork Baptist we love to study
the
Word of God.
We believe that it is
God's will,
plans and purposes
are revealed in His Word.