Is
God calling you to serve? Don't ignore the call and step out and join one of our ministry teams. If you do not see an opportunity you are looking for, let us know.
Click here
to fill out the get connected form and get more information.
BIBLE STUDY CLASS
Locust Fork Baptist Church Bible Study
provides more than just something to do. We provide a place for you to share your experiences with others, a place to grow spiritually, relational, and a place to connect and be cared for in a growing church. We have a variety of Bible study groups for everyone to join. Our Bible studies start on Sundays at 9:30 AM. If you would like to get connected or God has placed on your heart to lead, let us know.
Click here
to fill out the get connected form and get more information.
MUSIC MINISTRY
At Locust Fork Baptist Church we are committed to a blended style worship. With this unique style we are always looking to expand our worship team We believe that the purpose of music is to glorify the Lord with our lips and talents. If God has given you a musical talent we would love for you to join our team and serve the Lord!
If you are interested in joining the music team please contact
MISSIONS
Scripture commands us to start at home and to go into all the world as witnesses for Christ. We at Locust Fork Baptist Church take that command seriously and strive to obey it wherever we go. We believe that every Christian is called to go. We offer a variety of mission opportunities that anyone can participate in. We challenge every member to pray and obey in the area of missions that God leads them. If you are interested in being apart of God's mission work please contact Joel Phillips our missions coordinator. Click here for Missions page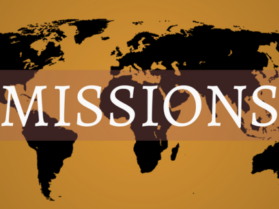 G.R.O.W. OUTREACH TEAM
If you are looking for a way to serve in the church join the G.R.O.W. outreach team. Team members meet every Sunday at 4:00 PM in the church office. G.R.O.W. Outreach is an exciting strategy that offers members an avenue for participation in outreach to our community. As a member of the G.R.O.W. team you will outreach by phone call, writing cards, interceding in prayer for someone, or making home visits. Our main focus for the LFBC G.R.O,W. team is to reach people for the kingdom.
If you would like to join the G.R.O.W. team contact Marie Hawkins.
CHILDREN'S MINISTRY
We see throughout the Bible that God has called us to love and serve each other. What better way to serve God than in our Children's ministry. There is no greater joy than seeing children grow to love Christ and learn about the Bible. We offer many opportunities for you to serve through Bible study, Children's Worship, Upward Basketball, and V.B.S. If you are interested in serving on our children's team please contact Wendy Mclain.
STUDENT MINISTRY
One of our goals at LFBC is to provide students an opportunity to grow in their relationship with Christ, to grow in their relationship with others, and to share the gospel to the ends of the earth. This ministry would not happen without the prayers of our church and the volunteers that love on our students. Don't ignore the call if God is calling you to serve in this ministry.
Check out our student ministry WASHED.
PRAYER TEAM
At LFBC we believe in the importance of prayer and the power it holds. Our prayer team meets Sunday's and Wednesday's each week to pray over the needs of others and our church. This is a time set aside to spend with God interceding on the behalf of others. If you feel God is calling you to serve on our prayer team click here to fill out the get connected form.
CREATIVE TEAM
The Creative Team is made up of a talented group of people willing to do what it takes to reach others. With their creative minds they promote worship environments and experiences that invite people to journey towards intimacy with God and give followers of Jesus a worship experience that will encourage them as they join in Jesus' mission. From media to events the creative team can be seen using the talents God has given them to help people be inspired in their walk with Christ.